The most trusted TPMS information resource
Integrated directly into by FreedomSoft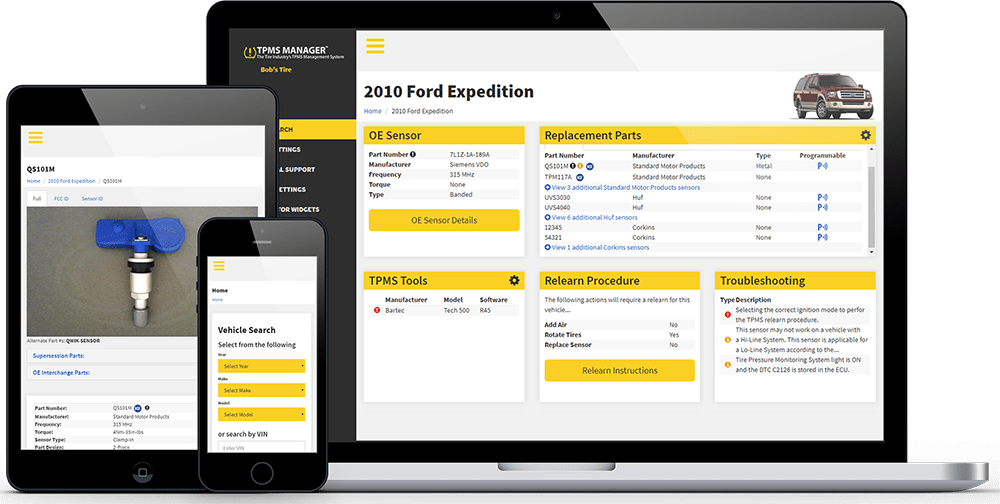 Get TPMS Manager for only $20 per Month (50% off)
or $216 per Year (Additional 10% off)
Sign Up Now!
For multi-location setup, please give us a call at 810.355.4655
TPMS Parts Catalog
Did you know that many TPMS sensors were designed to fit multiple vehicle applications, other than the original application? A vehicle may have 4 completely different OEM sensors and all function correctly with the vehicle. You may find up to 30 or more compatible replacement sensors to choose from. Our catalog includes OE and aftermarket sensors and service kits from all the top TPMS parts manufacturers.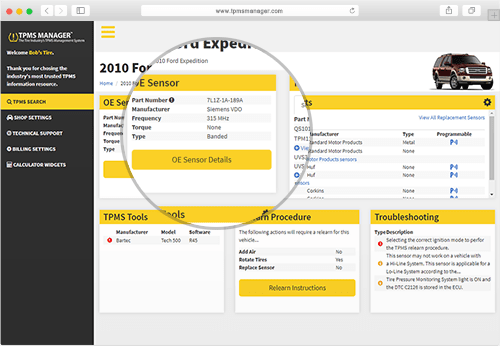 OE Sensors
Know what original equipment sensors come on any vehicle equipped with direct TPMS. Know when a vehicle came equipped with multiple OE sensors. Get detailed part information including part number, manufacturer, frequency, torque and much more.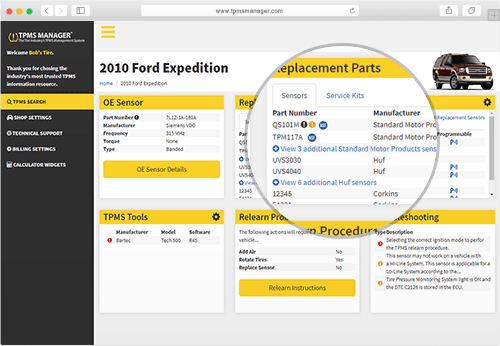 Aftermarket Sensors
There are countless options to consider when replacing a TPMS sensor today. Know which aftermarket sensors are compatible with a selected vehicle. Filter your replacement options by preferred vendors.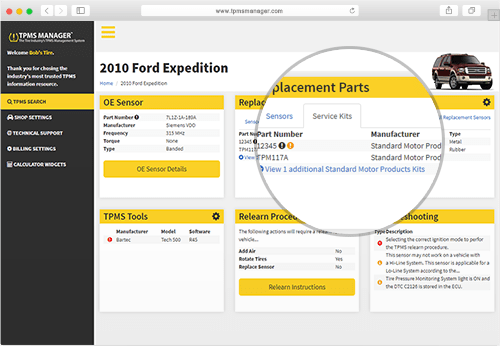 Service Kits
Just like TPMS sensors, there are many options for replacing service kits. Know which aftermarket kits will work with the OE sensor and filter your options by preferred vendors.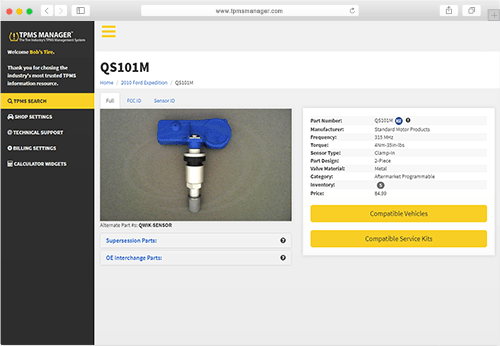 Images & Details
View annotated part images from multiple angles. At a quick glance, get detailed part information including part number, manufacturer, frequency, type and much more.
TPMS Service Information
TPMS is complicated. Tire retailers must be prepared to service any one of the thousands of sensors in service today and understand how they work together. We provide you with all the necessary information to service vehicles equipped with direct measuring tire pressure monitoring systems.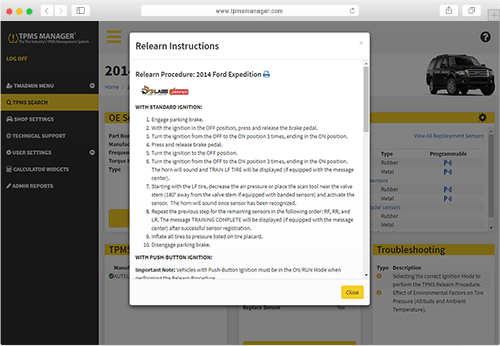 Relearn Procedures
TPMS Manager includes the most accurate and up to date database of vehicle relearns in the industry. Multiple TPMS reset options are included for many vehicles.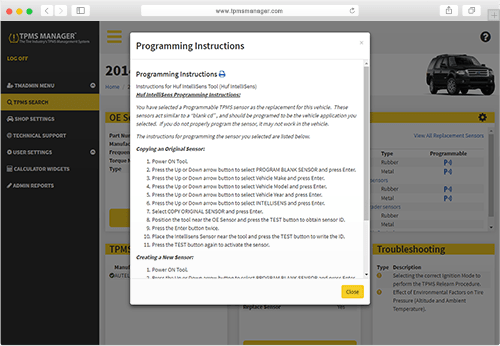 Programming Instructions
There is a variety of programmable sensor technologies in the market. TPMS Manager provides instructions for creating a new sensor or copying the original sensor for some of the leading sensor vendors.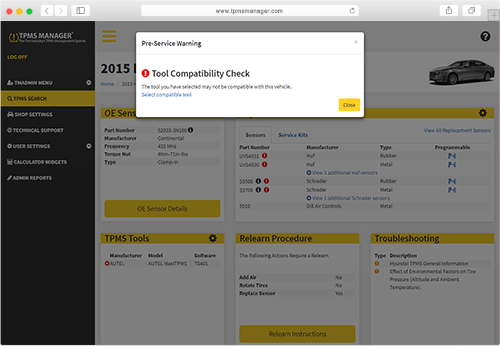 Tool Compatibility
A proper TPMS scan tool is a must have for the tire retailer today. You cannot service TPMS without one. No tool has 100% coverage and TPMS Manager alerts users of tool incompatibility before they get in trouble.
TPMS Troubleshooting
The biggest challenge when servicing TPMS equipped vehicles is troubleshooting situations where things are NOT working, even when you have the correct information. TPMS Manager is the only resource that combines data from the industry, TSB's from the OEM manufacturers, as well as supportive information from our partners in the industry.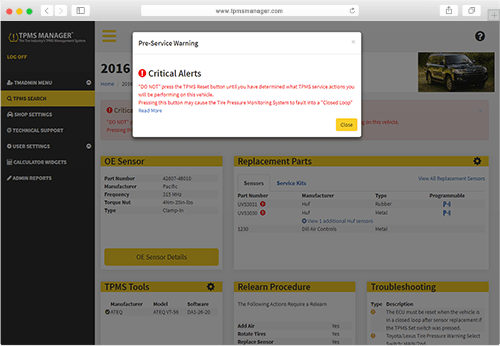 Critical Alerts
Know before you service a vehicle equipped with TPMS if there are any pre-existing conditions you should be aware of including manufacturer recalls, TSB's and tool compatibility issues.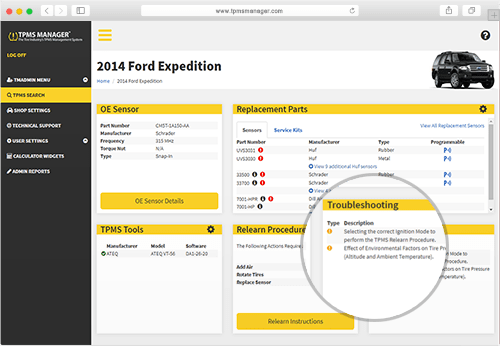 Troubleshooting Tips
Having the right information at your fingertips can be critical for keeping your customers satisfied and getting them back on the road quickly. Our custom database includes hundreds of troubleshooting tips and documents to help you work through complex TPMS issues.

The website has been very helpful. It has made us more productive and more professional when it comes to relearn procedures. We did not have a procedure for replacing TPMS kit with new tire purchases. The website has helped us with inventory and implementing a new profit center in the sales of the TPMS kits. I would guess we are generating $1000.00 to $1500.00 in sales of TPMS kits per store.
Ralph Holmstrom , C&R Tire
Get instant access to the most accurate TPMS Information
Join the thousands of tire dealers who count on TPMS Manger for the latest TPMS relearn, parts interchange, troubleshooting and TPMS systems information.
Sign Up Now!
For multi-location setup, please give us a call at 810.355.4655